Strat Modifications
I performed a lot of mods on my Strat.
The Strat is a sunburst 1996 American Standard Strat w/rosewood fretboard. Originally it had a white-black-white 3-ply pickguard.

1. I changed the machine heads to staggered Sperzel Locking Tuners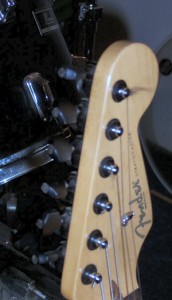 2. The pickups have been changed to Fender Custom Shop Texas Specials
3. The volume pot has been changed to a smoother tapered type
4. The tone controls have been rewired so the rear one works with the bridge pickup and the other works with the neck and middle pickups.
5. I have added a switch to give me two more pickup combinations: neck+bridge and neck+middle+bridge
6. I inserted all five springs in the back cavity and tightened the bridge down. I never use the vibrato anyway.
7. The pickguard has been changed to a black-white-black 3-ply version.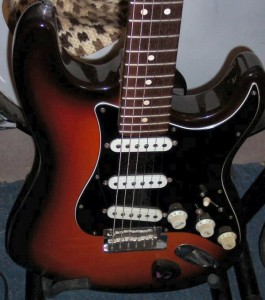 3 Responses to Strat Modifications